Planning a two-wheeled tour? BMW's new R1200 RT could be the place to plant your bum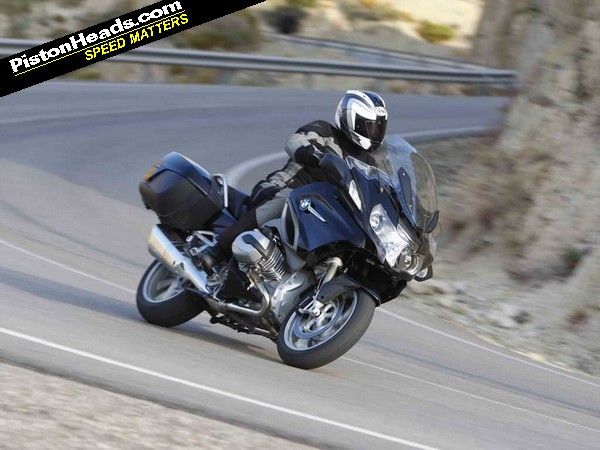 BMW's boxer engined RT models are something of an institution. Now entering their 36th year of production (the R100 RT first appeared in 1978), the RT range has developed an enviable reputation for sporty handling and bulletproof reliability. To be brutally honest they aren't the sexiest of bikes, but if you are looking at ticking off the miles the RT is the tourer to have. However, of late the old air/oil-cooled R1200 RT has been facing a bit of an uphill battle against newer competition such as the Triumph Trophy. Well, for 2014 it has (somewhat predictably) received a much-needed boost of not only engine performance, but also handling prowess and electronic gadgetry.
As expected, the RT has received the partially water-cooled GS engine for 2014, although with a heavier flywheel and generator to make it a bit smoother. Aside from this, and a longer drive shaft gear for more relaxed motorway riding, the basic motor is the same, meaning the RT also gets ride by wire and power modes for the first time.
Gadgets galore
To go with the new engine is a new frame (again based on the GS's steel one), a change in ergonomics that include an improved fairing, new lights and larger seats, a full colour LCD dash and loads of updated electronics. As well as the usual traction control, dynamic suspension and cruise control, the RT is also now available with Hill Start Control and Gear Shift Assistant. Although most of these are missing in the basic spec bike (you get ABS, power modes and traction control as standard), nearly every single RT sold has extras added by its owner. Here's a random fact for you: of the nearly 30,000 BMW R1200GS models sold last year, only 142 didn't have ESA! So yes, when it comes to BMW owners, you can safely assume we are talking bells and whistles on the bike…
BMW has been very careful not to rock the boat much and when you ride the 2014 machine it feels very much like the old RT, just a bit better everywhere. The new engine is not only smoother, but has about 10 per cent more grunt throughout the rev range, while managing to keep the same feeling of control. It's not the most powerful tourer on the market, but according to BMW that's not what the RT owners wanted. Anyone who wants to go fast on a fully-faired BMW gets the ballistic K1600 GT, those who want a light weight and agile tourer get the RT. And the RT is agile, despite weighing 274kg.
Like the old model the seating position is more 'on top' rather than 'inside', but BMW has done a great job of keeping the RT's weight very low in the frame, meaning it has remarkably accomplished handling. Compared with most full-dress tourers the RT is a sports tourer and turns in rapidly while retaining a reassuring feeling of solidity mid-corner. Get your gander up and you can really hustle the RT around, all the time cocooned in one of the most protective fairings around. And now for 2014 you can even see behind you, BMW having updated the notoriously poor RT mirrors into items that now show more than just your hands…
Tech savvy
Most BMW owners have ridden with ESA and therefore know how good it is, and the same is true for ABS, traction control and cruise control. However, Hill Start Control and Gear Shift Assistant are brand new technologies. Hill Start Control does exactly what its name suggests. Stop on an incline (or a flat) with the engine running and a quick squeeze of the front brake illuminates a light on the dash, signaling that the RT has automatically applied the rear brake. It will hold it on until you either pull away or turn off the ignition.
This may sound very simple technology but in practice it is simply brilliant. A fully loaded RT is quite a beast, and this feature will offer loads of reassurance for riders when it comes to stopping on an incline or at a toll booth when you need to fumble around for change. The Gear Shift Assistant, however, is less convincing. Essentially a quickshifter linked with an auto-blipper, the system means that once on the move, riders can go up and down the gearbox without using the clutch lever. A quickshifter is pretty tried and tested technology, but the downshift element is new. Although not taken from the WSB bike (PH2 rode Marco Melandri's S1000RR last year which had an auto-blipper fitted) the system on the RT works in a very similar fashion. Close the throttle and when you stab the gear lever the RT automatically briefly blips the throttle before allowing the lower ratio to engage. It's a fairly basic system and not as clever as Honda's DCT or Yamaha's clutchless gearbox, but seemed to work well enough. But is it necessary? Owners who struggle with using the clutch a lot might find it helpful. Quizzed about gearbox additional wear BMW claims it isn't an issue.
A worthy successor?
The outgoing RT is a very popular bike and in not reinventing the wheel BMW has ensured that this new generation of RT will be equally as well received. It has all the feeling and spirit of the older RT, but is improved in just about every aspect. The 2014 bike is not only more responsive, it is more comfortable, loaded with technology and offers better weather protection as well as a view of what is behind. The colours are a little disappointing for PH2 tastes perhaps but RT owners are possibly a little more conservative and will doubtless offer few complaints about this or any other aspect of the bike.
---
2014 BMW R1200 RT
Engine: 1170cc boxer twin
Power: 125hp@7,750rpm
Torque: 92lb ft@ 6,500rpm
Top speed: 145mph (est)
Weight: 274kg (wet)
MPG: 53mpg (est)